Vancouver Photos (just a few)
Vancouver, British Columbia, Canada.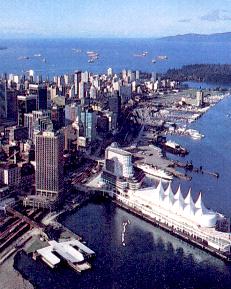 This is an aerial view of Vancouver, looking towards the West over Canada Place and it's
sail-like structure. Stanley Park is the treed area and English bay is full of ships
awaiting their turn to load or unload at Vancouver's seaport docks.
This is a view from Kitsilano Beach looking toward what is known as the 'West End' of Vancouver.
The high-rise buildings go right up to the edge of Stanley Park. The North Shore
Mountains are in the background and have both downhill and cross country ski areas on them.
---
GRANVILLE ISLAND
Located on False Creek, in the heart of Downtown Vancouver, Granville Island is
famous from it's Public Market, Restaurants and Arts Center.

Granville Island Public Market, with the Burrard Street Bridge in the background.
Below is the small ferry that will take you across the water, if you don't want to drive the
long way around.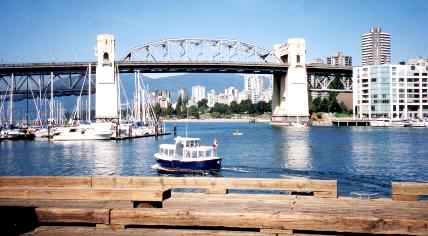 The market is a wonderful place to find all kinds of exotic fruits and vegetables.
along with delicious baked goods, fabulous fresh fish and meats, it'll make your
mouth water!!
-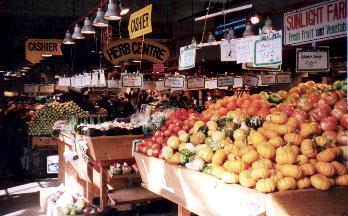 Don't these vegetables and fruit look tempting!
With the exception of the top photo, the photos were taken by Dayle
September 1998, all rights reserved.
---
[ KELOWNA PHOTOS ][ HOME ][ DETAILED INDEX OF PAGES ]
The total number of Visitors to this page is