Dayle's Turkey Tips

These tips and tricks have taken years to compile!

1 large turkey

Actually one turkey any size you prefer. Allow enough for leftovers if you like them, so if you are having lots of people for dinner (12-15) I'd get a turkey at least 20+ lb.. in size. The rule of thumb is to allow 1 lb. raw weight per person, so a 20# turkey would feed 20 people. Multiply accordingly.

The biggest I've cooked is 30 lb..!!! and it gets a bit hard to handle (lifting) and fitting in
the roaster and oven! You can always cook 2 smaller ones, if they will fit in your oven, although you seem to get more meat on the bigger birds.

Cooking Time Chart - 350 deg. F.

| | | |
| --- | --- | --- |
| Weight of Turkey | Unstuffed Cooking Time | Stuffed Cooking Time |
| 10 - 18 lb. | 3 - 3 1/2 hr. | 3 3/4 - 4 1/2 hr. |
| 15 - 22 lb. | 3 1/2 - 4 hr. | 4 1/2 - 5 hr. |
| 22 - 25 lb. | 4 - 4 1/2 hr. | 5 - 5 1/2 hr. |

Allow approx. 5 -6 hrs. for a really big turkey, no turkey will take longer than that, so plan on putting it in the oven around noon to serve at dinner. You can always hold it if it's done sooner, see below. A meat thermometer is worth the investment. A turkey costs lots of money and a thermometer can prevent disaster. An undercooked turkey is wasted, or too much of it winds up in the soup pot and an over cooked turkey is dry and stringy. ' Been there done that' both ways, now I have a thermometer. If the turkey is cooking too quickly, turn the temp. of the oven down to 300 deg. or less and let it cook slowly. Watch that thermometer!

Another tip: If you get a bargain on a big turkey, but don't want to cook a big one, ask the butcher to saw the turkey in half and only cook 1/2 at a time. This can give you a good amount of breast meat etc. for a small buffet dinner.

You can cook the turkey in an open roaster or a covered roaster. It will brown both ways. I cooked the 30 pounder in a covered roaster and it was wonderful. ( I'd thought anything THAT big must be old and tough, but it wasn't)

Put the meat thermometer into the thick part of the thigh, not touching the bone. The thigh is the last part that is cooked through. However, when you are wondering if it is 'really cooked' insert the thermometer in another area, and check that reading too.

Safety Tip: Remember, when working with raw turkey, wipe down all work area, wash knives etc. and your own hands in a mild bleach and water solution. I jokingly refer to a raw turkey as "Salmonella Sam"!

Thaw turkey, rinse out with water, drain . Set aside for stuffing.

How to Make Turkey Stuffing or Dressing

I use bread cubes, (dice up a loaf of bread, approx 1 loaf for 14 lb. bird) both white and whole grain, fresh and dry mixed with 1 sm. or med. diced onion, 1/2 c. - 1 c. finely chopped celery with leaves, s & p and poultry seasoning to taste 1+ Tbsp. and that's all. I then add a little water water or chicken broth (no butter for less fat - add 1/2 c. melted butter if you want to.), so it is partially moist and pack it into the turkey tightly. It absorbs the turkey juices as it cooks and is a moist, tasty stuffing, low in fat if you don't use the butter. I figure the more you can 'stuff in' the more servings you'll get! It always comes out steaming hot, so I'm sure it's well done. Add some diced apple and dried cranberries to your stuffing mix, for a little more exotic taste treat!

How to Make LOTS of Stuffing and Gravy: My sister-in-law Susan, gave me tips from her Mom, on

getting lots of product, (stuffing & gravy) from a turkey.

Stuff neck cavity and inside of bird. There is also another place you can pack in stuffing! Gently lift the skin away from the side of the breast down towards the area where the thigh joins. Now you can pack more stuffing into this pocket on each side of the breast! Great when you are having lots of guests!

I don't bother with a lot of trussing, it's too fiddly, so once the cavity is packed with stuffing, I simply tuck a piece of bread crust (heel) over the opening, and you have an instant 'lid' on the stuffing. If you are roasting in a big open pan, you might want to use a piece of string to tie the ends of the drumsticks together, so they don't flop apart, usually this is unnecessary.

You can make 'vats' of gravy if you boil the neck and giblets in a large sauce pan with lots of water (8 c). Let the whole thing simmer for hours with a lid on, then feed the giblets to your cat later for a treat.

When the turkey is finished cooking and is out of the pan, using a large spoon or a gravy ladle (it's the right shape) spoon off all the turkey grease. Add 2 c. boiling water to the pan and scrape all the brown bits into the water, until the pan is almost clean.

Add this water to the broth from the neck etc. This is your gravy base.

How to Make Gravy

Mix together flour and 1 tsp. salt (this keeps the flour from forming lumps) and cold water, until smooth, strain if lumpy, (try ratio of 1 1/2c water to 1/2 c. flour) bring broth to a boil, and quickly whisk in flour-water mixture until of desired consistency. Add salt to taste, gravy should be a little salty.

Here a tip for making your turkey ahead of time, so you can use the oven just before dinner. I got this tip from a fireman's wife. She told me you can plan your turkey to be ready at least an hour before you intend to serve it. (she's held it several hours!). You remove the turkey when done, and wrap the whole thing tightly in foil and place a big heavy towel over it and set it aside. It keeps REALLY HOT for several hours, I've done this and it works extremely well.

Old time trick for telling when the turkey is ready. Juices of the thigh should run clear, but the drumstick should wiggle loosely when you try to move it!

Safety Tip: Always remove all the stuffing from the turkey and store it separately, if you have any leftovers.

If you aren't carving the turkey at the table, remove the entire chunk/side of the breast meat and then carve it on a board...much easier than trying to cut it on the bird and gives a better product.

Mmmm I'm hungry just reading this!

Below is our Christmas Turkey 1999, (gravy on the right) the legs flopped apart a little bit because I cooked it in an oversized pan, but it was a fresh turkey and was cooked to perfection with the aid of my meat thermometer. I reduced the temp. to 300 deg. for the last hour. It was so juicy and tender, even though it wasn't basted!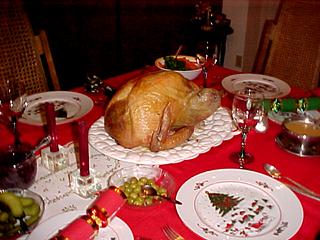 THE TURKEY SHOT OUT OF THE OVEN
The turkey shot out of the oven
and rocketed into the air,
it knocked every plate off the table
and partly demolished a chair.
It ricocheted into a corner
and burst with a deafening boom,
then splattered all over the kitchen,
completely obscuring the room.
It stuck to the walls and the windows,
it totally coated the floor,
there was turkey attached to the ceiling,
where there'd never been turkey before.
It blanketed every appliance,
It smeared every saucer and bowl,
there wasn't a way I could stop it,
that turkey was out of control.
I scraped and I scrubbed with displeasure,
and thought with chagrin as I mopped,
that I'd never again stuff a turkey
with popcorn that hadn't been popped.
by Jack Prelutsky Thanks to Risa for sharing this!
Below is Susan's Christmas 1999 Turkey! Susan bastes her turkey while it is cooking.I don't kow if basting makes the turkey moist, but it certainly make is brown.