Cookies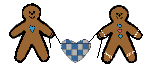 "C" is for Crunchy Chocolate-Coated Chocolate Chip Carrot COOKIES!
Anybody have the recipe????


Almost all of these all can be made ahead and frozen,
cookie recipes can be doubled easily.
For bar 'cookies', and tea time tarts, please check out Bars & Squares

Everyday Cookies:

But that doesn't mean they're ordinary!
Big Batch Cookies:
Holiday Cookies:

Cookie Frostings:
Where would you like to go next?
[ Bars and Squares ] [ Muffins ] [ Growlies Main Index ]