Just Desserts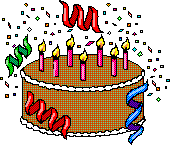 ooooh a Chocolate CARROT CAKE!
Cakes Pies & Delicious Desserts!
These all can be made ahead.
For really big recipes, please check out Serves 50 and Serves 100

Dessert PHOTOS to inspire you!
Misc. Desserts in 11 x 15 sheet pan:

Pies:

If I eat pie in a plane, is that real Pie in the Sky?

Cakes:

I'm going to have my cake and eat it too!


Frostings:

This is the icing on the cake!
Desserts:

Cheesecakes:

Cheesecake is THE most popular dessert of all! (results of an earlier poll).

Uh oh ...I ate the whole thing!
Low Fat and Special Diet Treats:

Where would you like to go next?
[ Cookies ] [ Bars and Squares ] [ Muffins ] [ Growlies Main Index ]
[ Recipe Exchange and PARTY Food Message Board ]