Notes from Nancy:
Elegant Afternoon Wedding for 105
The date August 24th, 2002. The place Vancouver, Washington. The event my step daughter's wedding.
Nancy was very organized. She had also set up the buffet tables at home weeks ahead of time to develop her decor strategy. Practice made perfect in this case and will for you to, especially when you are planning such a special event. Practice prepares one to get it right when it really counts. I have left Nancy's notes as she gave them to me to capture her personality and her excitement. .. Dayle
Here is the menu that I decided to use:

deviled eggs

chicken salad croissant sandwiches

cheese ball and crackers (the cheese ball will be in the shape of 3 life size packages and frosted with white cream cheese and decorated with silver and gold ribbon and string pearl type beads. Just like in the Wilton cake book.)

broccoli salad

veggie platter with Uncle Dan's southern Dip in a hollowed out purple cabbage

fruit tray with a pineapple top in the center

Teri's awesome pasta salad (from this site - I increase the olives and cut in half the cheese.)

prawns and cocktail sauce on a 3 tier serving dish

mini muffin pan size cheese cakes in silver mini muffin liners on a smaller 3 tier serving dish

Swedish meatballs-in a chafing dish

lil smokies in grape and chili sauce-in a chafing dish

punch

mixed nuts

sparkling cider

coffee

cake

chocolate fortune cookies at each place setting.

Hershey's mini candy bars with personalized wrappers
Not a real fancy menu but I know that it will look nice and taste good. I have catered this same menu minus the prawns at work and at another event so I know that people like the food items & it make me a little more self assured that the big wedding day will go smoothly - at least as far as the catering.

One week ahead I made up 9 large freezer zip lock packages of meatballs with pineapple chunks and sweet and sour sauce on them and froze them. I also made 300 mini cheese cakes using the mini muffin tins with the silver foil cup liners and Keebler mini vanilla wafers for the crust. I also zip locked the cheese cakes and froze them. I made up 24 bottles of sparkling cider with the labels about 1 week ahead and 1 special bottle for the bride and groom. I made up the mini Hershey candy bar wrappers 2 weeks ahead. I baked 36 lbs of chicken breasts 1 week ahead, diced the meat, and then froze it all in ziplock bags to be made into chicken salad the day before the wedding.

Two days ahead I made my giant cheese ball shaped like 3 stacked packages with silver and gold Mylar ribbons (needed something that would hold up under refrigeration and not bleed) and string beads. This was as I had thought, a real conversation piece. People thought at first that it was really a cake since it was so big. I elevated the cheese ball on a soda crate covered with linen napkins and placed a very long, narrow basket with handles covered with linen napkins in front of the cheese ball with the Pepperidge Farm "Entertainment Style" crackers inside of it. These crackers are very high quality and one of the cracker shapes is a butterfly so very wedding worthy.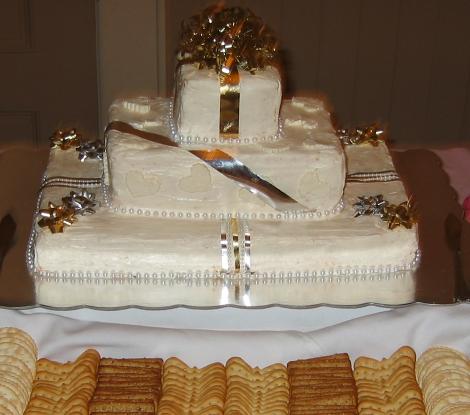 Nancy's awesome 'cheese ball' - instructions farther down this page.

I made the salads the day before and put damp paper towels over the top with plastic wrap over that and then the foil lid. The broccoli and apple salad was the best received. I served it along with Teri's awesome Pasta salad (recipe from this site.)

I made two veggie platters and two fruit platters the day before and covered each with damp paper towels and plastic wrap. No clamp on lid was used because my trays are always so high.

One day before I picked up my rented 4 tier silver tray. This is 30" across at the bottom tier. This was covered with green leaf lettuce and lemon slices around the edge. The shrimp was placed on top of the lettuce and on the top tier was a small silver bowl that had a pedestal base so that it could clear a screw that stuck up at the top. From this silver bowl was hung the very large shrimp. This was the eye catcher for the right hand side of the table.

I took out the meatballs and chicken from the freezer 2 days before to thaw. The meatballs were on the very end in a chafing dish and the second chafing dish was filled with lil' smokies in a grape jelly and chili sauce sauce.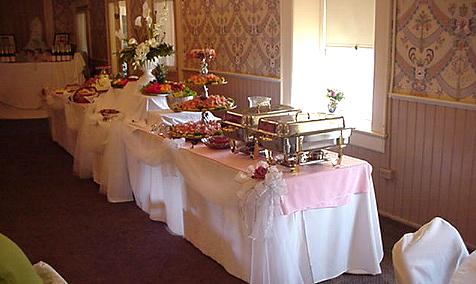 The cheese ball 'cake' is at the far end of the table along with the deviled eggs
and the chicken salad croissants, you can see the shrimp next to the chaffers.

This wedding and reception were very, very beautiful. I had so many guests that commented to me on how good the food was. One guest told me that this was the best wedding with the best food he had ever been to. I almost started to cry because I felt so proud that it all turned out so nicely.

The 2 things that were bloopers were not food related but I will share them still. The first thing was that the 3 large floral arrangements were not packed well and were all needing to be redone. One of these was so bad off that I had to totally redo it with new styrofoam. The 2nd bloober happened when I was redoing that last arrangement. I was standing in front of the alcove that is raised up 5 inches from the floor. When I went to walk to the alcove across the room to check the arrangement there to make sure that they matched, I forgot about the 5 inch step. I fell to the ground hard, spraining my ankle. I walked in bare feet the whole time except when I hobbled down the aisle I was able to slip my shoes on for that short time.

All in all a perfect day and a perfect wedding. I e-mailed pictures to Dayle of the buffet tables. I would have taken more photos but couldn't get around to do it because of my ankle.

All for now,
Nancy



I forgot to mention that I did use the recipe for deviled eggs from this message board. I added Best Foods Mayo, brown spicy mustard, and garlic powder to the egg yolks. I would estimate 3/4 c mayo, 1 T of brown spicy mustard, 1/2 t garlic powder yolks from 12 whole eggs (24 halves). This is a very creamy mixture , which is what I needed since I used the pampered chef egg decorator which requires a runnier consistency and had made these up 1 day in advance and didn't want them to look dried out at all. There were 24 deviled egg halves on a 12" clear plastic plate lined with a white plastic doily with an oriental lady design on the doily. It had a low clamp on lid (this item was hard to find). The doily helped keep the eggs from sliding around. The dill weed and the paprika was put on every other egg half which made a beautiful colorful tray. The deviled eggs were very well liked.

There was 105 guests total.
There was seating at the tables for 120. I was expecting anywhere from 135-150 guests. I made enough chicken salad for 108 sandwiches
but since these were made just before the reception, we were able to hold back on opening up the last package of Costco croissants. I found out the best onion salt to use in the chicken salad is "Durkee's". It does make a difference.

We had more than enough food. Again, I figured for 150 guests. I knew that the cheese ball would feed aprox 200 guests. We did have aprox 1/2 of it left over, that was expected but I wanted the size to make an impression.
I had made 10 dozen deviled eggs and those were pretty much eaten. I used the recipe from the message board of mayo, brown spicy mustard and garlic
powder. I put dill and paprika on them 1 hour before serving them.
I made 2 veggie and 2 fruit trays. There was only a small amount left over. I made way to much of the salads. I made 2 full pans of broccoli and 2 of
pasta. I could have gotten by with 1-1/2 pans of broccoli and 1 pan of pasta salad. (by pans, Nancy is referring to chaffing dish pans, or what is called steam table pans, the size of pan that would fit into the chaffing dishes in the photo above)
We had plenty of shrimp I had bought 10 bags of 31-40 shrimp per bag and
then 1 large shrimp 21-25 bag for the hanging shrimp. I bought 5 jars of cocktail sauce and that was just enough.
I made 450 meatballs and only needed 350. I bought 12 lbs of lil' smokies and could have used 8 pounds.

The wedding was at 3pm and the reception was in the same building at 3:30, there also was a DJ and dancing, the reception was over by 6:30pm.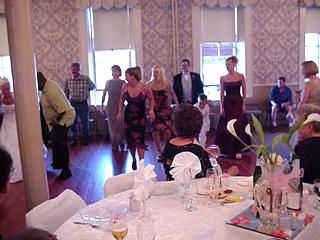 You can just glimpse the Bride behind the pillar learning some dance steps from the DJ. Everyone was having fun!
Cheese Ball
The cheese ball was made with 4, 3 lb bricks of softened cream cheese and 24 cups of mild pre shredded cheese and 24 tablespoons of Worcestershire sauce and 24 teaspoons of minced yellow onion.
I started out on a large cake board that was silver with a scalloped edge. I bought it from Party Depot. I started in the middle of the board and just started shaping it into the package shape. when I got the correct size then I worked on getting the height right. Any excess cheese ball that was on the cake board was wiped off with a paper towel with no one the wiser. I then proceeded with the other two tiers. When I got to the corners I would smooth them from both directions to make it sharp. I used large string beads to go around the bottom of each tier. On the lowest tier I placed 3 Mylar 1/4 inch ribbons, silver, gold, silver with 2 rows of small string beads separating the silver. I did this to all 4 sides of the lowest package. I also placed two star
mylar bows of silver and gold on each corner of the lowest tier. On the middle package I took softened cream cheese and spread out a bunch on a piece of waxed paper. I put the waxed paper onto a cookie sheet and then froze the whole works.
After 1 hour I was able to use my heart shaped cookie cutter to make the heart shapes that you see laid onto the middle tier. The middle tier also had a silver Mylar 1/2 inch ribbon crossing over 1 corner of the tier. For the top tier I used 1/2 inch Mylar ribbon on all sides and then wrapped this up well with plastic wrap. I made this 2 days before the wedding and didn't add the foofy bow to the top until right after the plastic wrap was removed.

Don't panic when the cake cracks. It will. Just take your finger and run it along the crack to fill it back in. I should mention that after all the cheese ball has been shaped into the 3 tiers then you do need to melt plain cream cheese in the microwave to use as frosting. Don't worry that the frosting is all bumpy and not smooth. Stick this in the frig uncovered for 30 mins. Pull it out and then smooth down the frosting with your finger (a small cake spatula dipped in hot water might work for this too ..Dayle.)
It will be smooth now. This took me 2 hours to make, but was very much a conversation piece.

More Notes:
The advice I would give is to forget the ice sculpture. Even though it is pretty we didn't have a freezer. We had to borrow the neighbors for the 3 days it took to set it up. We also had to find someone to deliver it to the reception that wasn't really a relative or friend since they were already at the wedding. When the sculpture arrived it had to be cut out of the plastic mold. We accomplished this using a dremel drill with a special cutting tip. This took a long time and made a big plastic shaving mess behind the bar. The first ice mold I got on sale had 4 leaks in it & I was pulling my hair out in desperation. I was able to get a new one on a rush order and still have time to get it into the freezer in enough time for the wedding.

I would recommend making the champagne or sparkling cider labels. I heard a lot of positive things about them. The fortune cookie were a nice touch at each table setting. The centerpieces were nice because of the 3 gold fish swimming around the bulb of the calla lily. (For those of you wondering what happened to the goldfish, after the wedding they were transported in a bucket in someone's van. The bucket tipped over and the fish were 'toast' the unlucky owner of the van found 3 more dead ones days later... terrible smell in car ... Dayle)
Also the day of the wedding I needed 3 people to help in the kitchen to make sure the chicken salad croissant sandwiches were made up at the last minute and also that the meatballs were heated and chafing dishes going, etc. I could have made all the food myself. I received help on the veggie and fruit platters of the food being cut up. I know that I would have had to have help in the kitchen at the reception just due to the timing of things and I didn't want to miss the ceremony. My kitchen help was the hardest working crew
that you will ever run up against.

Sparkling Cider Labels
I just wanted to share with you something that I tried and was successful with. I took a sparkling cider bottle and removed its label. I then made my own label on the computer that reads,
sir name's

For Our Wedding Day
August 24th, 2002

These tiny bubbles
Will bring you delight,
When you make your first toast
As husband and wife.

Of course the script was all centered on the label and the sir name was typed in large black font, sparkling cider was typed in medium red font, and the wedding info in large gold font, and the toasting message in small black font. I then put a skinny red border at the very top & bottom of the label. I took the bottle neck label & removed it for a pattern to trace out onto gold shiny sticker paper. I used a LaserJet printer & printed the letter of the couple's last name. I lined up the original label with the capitol letter underneath it the best that I could estimate in order to center it. I then cut out the gold sticker paper into the shape of a neck label. I stuck the neck label onto the neck of the bottle with their last name initial centered on bottle.
I also will make other labels for the guests bottles. There will be 24 that will say the same thing but, slightly different:

These tiny bubbles
will bring us delight,
if you join us
in our first toast
as husband and wife.

Back to the Wedding photo's